Our History
Thai Fermentation Industry Co., Ltd. was founded on 26 November 1967 with registered capital of 12 million baht as a joint venture between Thailand and Taiwan and stock proportion of 51: 49.

The factory located at 15 Moo 17 Km 86 Tambon Tha Pha, Ban Pong, Ratchaburi, Thailand on an area of approximately 40 acre.
Over 50 years ago, Thai Fermentation Industry Co., Ltd. have produced genuine monosodium glutamate branded spoon. Tapioca Starch and Cane Molasses are the main ingredients to distribute both at domestic and abroad. With continuous development in manufacturing and marketing, the company's quality products are popular with both consumers and industry local and abroad.
Policy
"Increase performance, Standard production, Customer confidence in services"
MSG quality Spoon Brand
MSG Spoon Brand available in sizes from 5, 10, 20, 30, 40, 50, 100, 250, 500, 1000 grams for household use. Size 2, 3 kg for restaurants up to 5, 10, 15, 25 kg for use in the food production industry. There are also MSG is available in various sizes as appropriate.
The Company's products are divided into 2 groups:
Scaly type
Powder type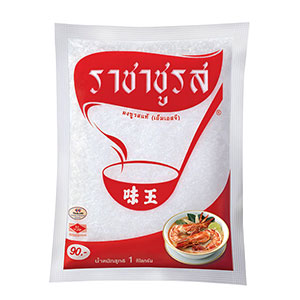 The new look is strikingly and outstanding.
To reinforce the universal. Thai Fermentation Industry Co., Ltd. has adapted package to look stylish and more prominent by adding a delicious food image. Print with the latest high-tech printing technology and to create another consumer confidence that they have bought genuine products. The new package is printed on a plastic embossed pump. Even with the higher production costs, it is assured that our products in the new package will remain the standard and excellent quality of MSG. Everyone in the house will enjoy the deliciousness cooked with Spoon Brand MSG. All dishes whether cheap or expensive, Thai cuisine, Chinese cuisine or any other country will be as delicious as a food cooked for the king.
Distribution channels
At present, Thai Fermentation Industry Co., Ltd. has expanded its distribution network. Covered in each region across the country:
Bangkok and perimeter region: Thepharak Center
Central: Ratchaburi Center and Rayong Center
Northern: Chiang Mai Center
Northeast: Ubon Ratchathani Center and Udon Thani Center
Southern: Phuket Center
To facilitate the distribution of goods to the shop and consumers each day.
Human development
Thai Fermentation Industry Co., Ltd. has realized the importance of human resource development in the organization. We has organized training activities to improve the capabilities of employees to have more potential. They also have the welfare of employees such as living expenses, allowances, bonuses, granted assistance in various cases. To be motivated to optimize to work and to increase revenue to employees.
Honorary prizes and Certificate of the organization.
With a meticulous production process from the best selection of raw materials and the inspection of quality, cleanliness and safety at all stages of production to the stage of delivering the products to customers, Spoon brand msg. has been certified by both national and international quality assurance system. Bring many awards and accolades such as:
ISO 9001: 2000 Certified as the first MSG manufacturer in Thailand.
ISO 9001: 2008 (INTERNATIONAL ORGANIZATION STANDARDIZATION) Certified from International standards organization established to disseminate international trade with the exchange of process capabilities, production of goods and services.
GMP (GOOD MANUFACTURING PRACTICE) has been certified for Management of basic environmental aspects of production processes, such as personal hygiene control, insect and animal control, water control, etc.
Spoon brand msg. is the first to be certified by the office of the Central Islamic Committee of Thailand and is accepted by Muslims worldwide.
The first and only MSG manufacturer certified HACCP by R.W. Hansen (Thailand) on the quality assurance of food safety and free from harmful microorganisms, chemicals and foreign substances to eliminate or reduce causes of harm to consumers.
Spoon Brand MSG is recognized in the food industry and not only in Thailand. It is also accepted in many countries. It has sold worldwide, Europe, America and Africa and is ranked number one in Indochina.